January 7th, 2009 by
Jon Clements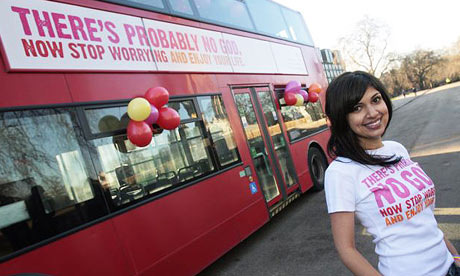 The battle lines are drawn; the forces of good and evil face one another across the cosmos; the advertising space has been bought. Let the mortal scrap for our souls begin!
The Atheist Bus campaign has taken to the streets of London, propogating the idea that "There's probably no God…now stop worrying and enjoy your life." The whole idea began as a blog post by writer, Ariane Sherine (ex-Sunday school attendee) which mushroomed into a call for donations to pay for an atheist advertising campaign to rival the Christian public transport campaign that inspired Sherine's ire.
According to the Guardian's report today, the campaign has the backing of Richard Dawkins, author of The God Delusion, the British Humanist Association, philospher AC Grayling among others.
Meanwhile, the Church of England is being no slacker in fighting back for the forces of religion, by devising a Prayer on Being Made Redundant plus a Prayer For Those Remaining in the Workplace, which even had a reading on Radio 4's PM programme last night. Call me cynical (and an atheist if you like), but isn't that capitalising on the human fall-out from the credit crunch?
PR Media Blog picked up on the Churches Advertising Network nativity campaign back in December, so clearly the strange bedfellows of religion and marketing communications are very much in cahoots.
*Update – A complaint is made to the Advertising Standards Authority by Christian Voice stating that the Atheist Bus Campaign needs to substantiate its "There's probably no God" slogan. I suspect this one is going to run and run…
**Update 2 – and it has. Radio 4 will run its first atheist Thought for the Afternoon, to balance out the Today programme's daily faith-based Thought for the Day.
Jon Clements is a Chartered PR consultant specialising in B2B PR, corporate and marketing communications and is the founder of Metamorphic PR. Connect at: JonClements 'Jon Clements'