Wednesday, January 12th, 2011 by Jon Clements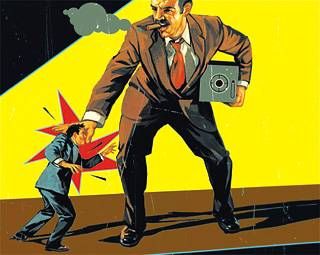 Week 2 of 2011 and already UK bankers are back on the ropes in reputation terms.
Barclays boss, Bob Diamond's appearance in front of the Treasury Select Committe yesterday is described by the Mirror's Ros Wynne Jones as a "despicable performance"; the Telegraph's report on Diamond's roughing up by MPs quotes Tory, Andrea Leadsom, who trounced the banker's claim to high levels of customer satisfaction and support for SMEs saying "the evidence doesn't stack up".
Elsewhere in the banking firmament this week, RBS has been fined £2.8m for what the Sun calls "shocking customer service". And late last year, the British Social Attitudes survey showed that the public's trust in banks as well run and managed has plummeted from 90% of people in 1983 to 19% today – a lower trust level than for the media and trade unions.
So, what are the banks to do?
Niall Harbison at The Next Web reckons that using social media provides "A great opportunity for them [banks] to chip away at their negative reputations", citing Citibank's launch of a Twitter feed to field customer complaints and training 100 staff to handle this new customer engagement channel.
As Harbison recognises, a general banking embrace of social media may be slow in coming, as being open is "not in their DNA". But can banks afford to ignore the social media movement if customers are demanding better customer service and resolution of complaints?
Closer to home, one bank that has taken social media seriously is First Direct. It's social media strategy first came to PR Media Blog's attention in November 2009 and since then it's embarked on open dialogue with customers in its "Talking Point" online forum and maintains a regular Twitter presence – though it appears to be a more promotional than customer engagement tool. Then again, if that's what the customer wants, so be it.
Just a thought, but maybe reinvesting a smidgen of a banker's bonus in genuine customer interaction via social media may lay the seeds for a resurgence in public trust and satisfaction for the banks.
Jon Clements is a Chartered PR consultant specialising in B2B PR, corporate and marketing communications and is the founder of Metamorphic PR. Connect at: JonClements 'Jon Clements'