Friday, June 17th, 2011 by Mark Perry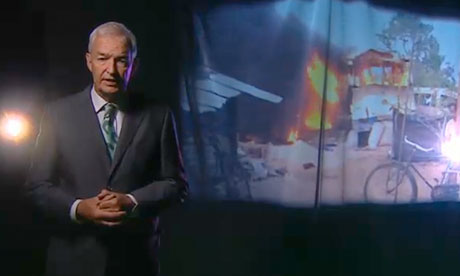 This week's thought-provoking Channel 4 documentary 'Killing Fields' investigating war crimes during the 2009 Sri Lankan civil war, has opened up a debate about how far news organisations should push the boundaries.
The programme, shown after the watershed and attracting 800,000 viewers,  contained footage of atrocities previously deemed too graphic to show on news programmes at the time, but told far more of the story what actually happened.
Much of the 'never seen before' footage shown in this week's programme was already available on the web for those wishing to search it out as it had originally been filmed on mobile phones.
During the Arab Spring news organisations have been unable to witness many of the marches and demonstrations which have led to bloodshed. They have regularly used unattributed footage, some of which is fairly graphic, taken from sites such as You Tube to report the latest events. Some of this footage has been shown with warnings about its content.
I can remember attending a lecture in the 1980s about news organisations responsibilities towards the victims and the viewers. Examples were given from the Vietnam war comparing broadcast and raw footage. It was pretty shocking and gave pause to thought about the editorial decisions taken. How times have changed. I have seen that raw footage appearing on pre-watershed programmes.
Times have moved on and we have all become a great deal more desensitised to events we see unfolding on our TV screens. While news organisations still have serious editorial decisions to make about the suitability of footage with the competition to break news stories how far will they push the boundaries? Next time, it might not take two years to see disturbing images from the next Killing Fields.
Mark has more than 25 years' experience in PR and corporate communications. He is a founding director of B2B consultancy Melville PR.