July 20th, 2011 by
Jo Rosenberg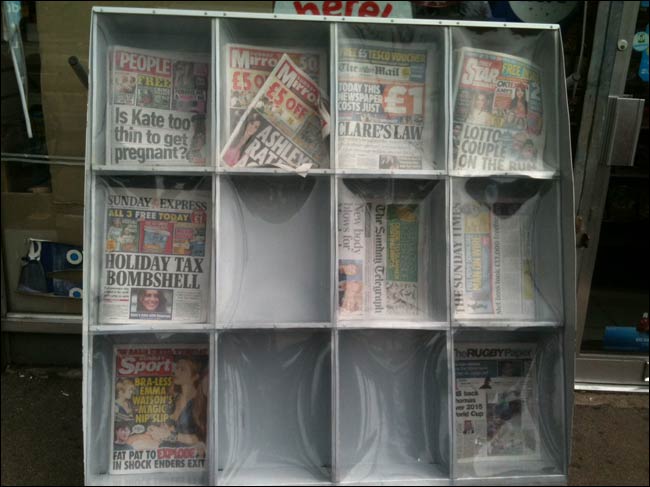 With 2.7 million people now without their regular Sunday newspaper you would think that the surviving few would do everything possible to reel in all those extra readers.
Not so. Granted, from a marketing perspective they pulled out all the stops with price cuts (Mail on Sunday was on sale for £1 as opposed to its usual £1.50) and TV advertising; yes Saturday night TV was littered with ads from all the major players, yet the editorial content remained the same celebrity fuelled nonsense.
Perhaps I'm naïve to assume that lessons should have been learnt and that the Sundays would evolve following the appalling sequence of events at NOTW but from this weekend's evidence, it appears not.
Front pages were littered with intrusive celebrity and royal tittle-tattle about the usual suspects, Cheryl and Ashley ("Ashley's Rat It Again"), Katie Price ("speaking Spanglish") and Kate Middleton ("Too Thin To Get Pregnant").
It's almost disrespectful that despite the closure of NOTW, the Mirror, People and Daily Star are still dredging up intrusive and mindless celebrity gossip.
If there was ever an opportunity to bridge the gap between the red tops and the middle market Mail on Sunday, then this should be it. UK newspapers owe it to us to deliver more balanced content.
It was refreshing in some respects to see that despite millions of NOTW readers looking for a replacement newspaper, The Mail on Sunday didn't try to fill the void and didn't overload the celebrity content.
That said, looking at early sales figures based on a sample of 250 retailers, the big winner last Sunday was the Daily Star Sunday, up more than 110% but that's from a starting point of just 306,000 last month. The People improved by more than 50% and the Sunday Mirror was up by 40%. The Mail on Sunday added just 13% but this was enough to take it beyond its 2m circulation. The Sunday Times was reported to have lost just over 1% of its normal sales.
We wait to see what the Sunday Sun will bring to the party…