August 22nd, 2011 by
Mark Perry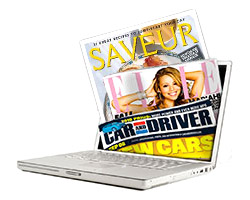 Hidden away in the latest ABC issued last week were interesting facts relating to digital editions of magazines.
With the growth, in particular of tablets and e-readers, you would have expected it to be a strong market.
It seems that where they are available the digital versions represent about 1% of total sales accroding the Press Gazette. The top sellers are Men's Health (1,746), Hello (1,165) and Stuff (981).
Magazines such as House & Garden, Autocar and Cosmopolitan sell around 300 copies each and Vogue just 185.
While these are just optimised versions of the established print editions, there are magazines launching, such as Football Espana, which are solely as electronic versions having the look and feel of a traditional magazine. It will be interesting to see how well they do without the legacy of having had a print edition.
Mark has more than 25 years' experience in PR and corporate communications. He is a founding director of B2B consultancy Melville PR.