January 30th, 2012 by
Jon Clements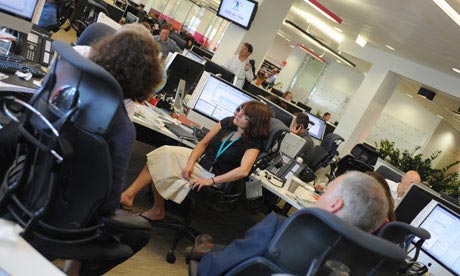 Do the humble consumers of news care how the news comes about? And do they care to contribute to the stories of the day?
The Guardian's latest online editorial experiment is about to find out with the launch today of Newsdesk Live, combining its already established "open news list" of each day's selected stories and correspondents with the liveblogging platform and live comment thread. So, for everyone determined to add a tuppence worth to the news process, the Guardian is the place to go.
Run by the ever-industrious Guardian correspondent, Polly Curtis, who is adding this to her Whitehall and Reality Check column responsibilities, Newsdesk Live is forensically dissecting a small number of stories – which today includes Stephen Hester's bank bonus and the UCAS application figures – while giving space to graphics, multimedia and input from the Twitterverse.
Dan Roberts, the Guardian's national news editor says, in a reply to a reader: "For those worrying about excessive navel-gazing, it's a fair point if we get carried away, but mostly what you are seeing is part of the editorial process that goes on any way – just usually behind closed doors. More importantly, I hope the Guardian's recent record in breaking stories shows that taking an open approach often results in better journalism too."
And the Newsdesk Live concept is now getting high praise in high places…
Citizens and journalists reporting the news? My first editor – if he were dead – would be turning in his grave!
Jon Clements is a Chartered PR consultant specialising in B2B PR, corporate and marketing communications and is the founder of Metamorphic PR. Connect at: JonClements 'Jon Clements'