September 14th, 2010 by
Jon Clements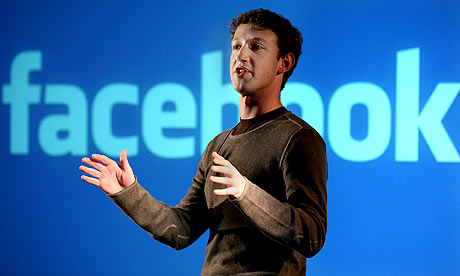 Facebook founder, Mark Zuckerberg, appears unperturbed by accusations surrounding his company's attitude to the privacy of the online network's 500 million active users.
Surely, that's a lot of customers to risk upsetting?
Today's Telegraph.co.uk quotes from Zuckerberg's interview in the New Yorker magazine in which the Facebook CEO says: "A lot of people who are worried about privacy and those kinds of issues will take any minor mis-step that we make and turn it into as big a deal as possible." His mission is apparently "trying to make the world a more open place".
Ironically, as journalist Jose Antonio Vargas points out in his New Yorker interview, Zuckerberg "remains a wary and private person. He doesn't like to speak to the press, and he does so rarely. He also doesn't seem to enjoy the public appearances that are increasingly requested of him."
On his own Facebook page, he comments in one update: "For those wondering, I set most of my content on my personal Facebook page to be open so people could see it. I set some of my content to be more private, but I didn't see a need to limit visibility of pics with my friends, family or my teddy bear :)"  (note: smiley face is his, not mine)
So is privacy a movable feast for Facebook and its boss?
As the company strives to persuade its users and the world at large, Facebook privacy control is at your fingertips. But how can you be sure you understand the way privacy settings work? The functionality's in-built "recommended" settings make some rather arbitrary assumptions about what should be visible and to whom. And how many users have delved even that far into managing their public profile? 
An interesting/disburbing post from David Iwanow, marketing director of The Lost Agency, suggests that Facebook is actively mining contact details from email accounts and representing them as possible "friends" to connect with via the Friend Finder function. This can mean it suggests anyone you may have ever had contact with via email.
Iwanow muses: "how much can you put up with Facebook using your own profile information for its internal marketing purposes?" It's a fair question, but do users feel that allowing the network to go about its business of building a highly targeted, worldwide, consumer database is simply a fair exchange for the fun they get from sharing multimedia content and jokes with their friends?
It's been said that at age 26, and despite the business behemoth he gave birth to, Zuckerberg doesn't yet have the maturity to appreciate the nuances of personal privacy and why it's important.
A final quote from the New Yorker piece: Danah Boyd, a social-media researcher at Microsoft Research New England, added, "This is a philosophical battle. Zuckerberg thinks the world would be a better place-and more honest, you'll hear that word over and over again-if people were more open and transparent. My feeling is, it's not worth the cost for a lot of individuals."
Jon Clements is a Chartered PR consultant specialising in B2B PR, corporate and marketing communications and is the founder of Metamorphic PR. Connect at: JonClements 'Jon Clements'