Thursday, June 27th, 2013 by David Jamieson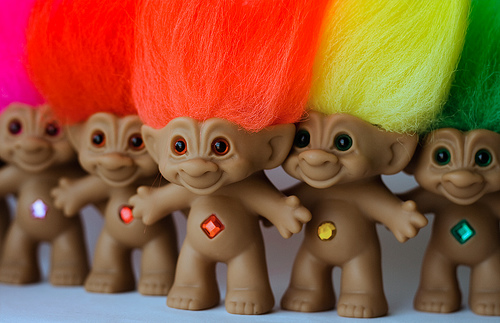 Until fairly recently a troll was one of those odd little plastic naked fellows with fluorescent hair. Repulsive, but harmless and easy to avoid. How times have changed. Nowadays, any communications professional incorporating social media into their campaigns must always, always ask "how could the trolls hijack this?" before trying to mobilise the masses online.
Durex is one of the latest brands to fall victim to internet pranksters. Its online poll invited nominations for anywhere in the world to be covered by its 'SOS Condoms Service'; emergency condom delivery for frisky but not risky couples. But it returned a less than ideal winner – the conservative Muslim town of Batman in southern Turkey.
Inspired by just how avoidable that outcome was, here are five things I think every one of us should do to either pre-empt the trolls or at least manage them when they rear their ugly heads.
1) Think like a troll – forewarned is forearmed, he who fails to plan and all that. Get the team together and run through every imaginable scenario, or open it up to the entire company. Be ruthless and get enough brains on the job and you stand a good chance of uncovering at least the most obvious potential slip ups, and probably some of the more left field ones too.
2) Establish some boundaries, or nudge people down (or away from) a particular route. This might sound counter to the spirit of social media, but what Durex got completely wrong was to allow the general public – which includes some very cheeky little monkeys – to choose anywhere in the world. If the choice had been limited to London, Paris, New York or Dagenham, their poll might not have had such a limp ending.
3) Know your audience…and your haters. McDonalds' now infamous #McDStories campaign might have been avoided if they'd remembered that antipathy for their brand probably equals the love for it, and hate is often more of a call to action than love. Waitrose learned a similar lesson with its "Finish the sentence: I shop at Waitrose because…… #waitrosereasons" Twitter campaign. Everybody thinks they're more popular than they actually are, but when planning a social media campaign it will pay off to be real. Remember that when pressing the launch button, you're not likely to get in front of just fans.
4) Have a clear response policy – nine times out of ten it's best not to respond at all, but there may be some anticipated scenarios identified in advance that can or should be managed. In these cases, flow diagrams illustrating the twists and turns, the "ifs" or "ands" that you've planned for will help you maintain a bit of control with measured responses. However, exercise a bit of pragmatism in actual delivery – stock responses that vaguely relate to the original prompt come across as stilted and impersonal. If you have someone with a genuine problem, then this kind of response is unlikely to lead to a satisfactory resolution. Still, if you suspect you have a real live troll on your hands, then it really is better not to give them the satisfaction. And remember, don't take it personally – or you might be provoked into doing something rash.
5) Not all angry people are trolls. It's important not to adopt a siege mentality, because not all angry people are trolls; some may have a real issue with you that needs addressing. Scratch the surface of that angry tweet and you might find an easily solvable problem that you can publicly solve.
David Jamieson (@JamiesonDavid) is an Account Manager at TopLine Communications, a specialist digital communications and crisis PR agency
David Jamieson (@JamiesonDavid) is an Account Manager at TopLine Communications, a specialist digital communications and crisis PR agency